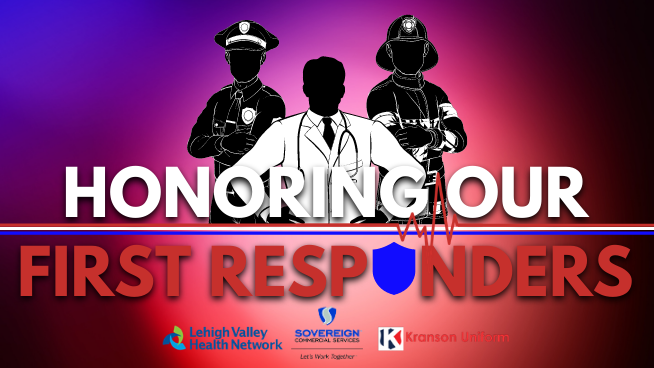 We want to say THANK YOU to our area's first responders!
Thank you to our healthcare professionals, firefighters, police officers, EMTs, and so many more… We appreciate all of you each and every day. That's why we're going to take 2020 to celebrate YOU, and we want all of NEPA to hear.
All year long, you can click the button below and tell us about your local heroes. Why are you nominating these men and women? Do you see the hard work they put in everyday? Did they save YOUR life? We want listeners to tell the area how great our first responders are.
Nominate your hero at the link below and check back to see their name listed here!

Thank you to our September First Responder:
Donald Schlier: Assistant Chief at the New Columbus Fire Company 
Nominated by:  His son, Tyler
"My father Donald Schlier is a 82nd airborne trooper veteran and after serving his country he came home and has been serving the community of Nesquehoning as a Firefighter since the 1980's. He began as a junior firefighter and now holds the title as Assistant Chief at the New Columbus Fire Company in Nesquehoning. He ran with the Nesquehoning ambulance for over 10 years. He is such a role model that I am following his fire footsteps and am currently a Lieutenant at the same station."
Donald says it's an honor to serve his community and he encourages more people to help – whether it be Fire, Ambulance or just helping with fundraising.
Thank YOU to all for all that you do for our community!